A group of our chefs took to the forest this October for an autumnal mushroom forage with our fresh produce supplier, Fresh Direct. Hosted by Duncan Parsonage, Fresh Direct's Head of Food Development, it was the perfect chance for our chefs to head out of the kitchen and get some inspiration from the great outdoors.
The day started with Duncan sharing his knowledge of all things fungal, and highlighting the dos and don'ts of mushroom picking – with an emphasis on avoiding the potential nasties! The plan was to pick as many as possible and to cook up a seasonal risotto with the fruits of our labour.
It's great for our team to be able to work in partnership with our suppliers, working with real subject matter experts and gaining a new appreciation for the produce we work with day in, day out. With fantastic food at the absolute forefront of our business, it's essential that we continue exploring and learning – which is exactly what a day like this is all about.
By the end of the forage, we'd managed to build up quite the stash. So there was only one thing left to do, to cook them up and and see how they taste. Duncan had brought along a camping stove, a fantastic risotto base and some homemade bread. So it was all hands on deck to prepare the mushrooms and finish off the risotto.
Here's a simple risotto recipe for you to try at home – just don't go foraging without expert guidance!
Ingredients
1 tbsp dried porcini mushrooms
2 tbsp olive oil
1 onion, chopped
2 garlic cloves, finely chopped
225g chestnut mushrooms, sliced
350g arborio rice
150ml dry white wine
1.2 litres hot vegetable stock
2 tbsp chopped fresh parsley
25g butter
Salt and freshly ground black pepper
Freshly grated Grana Padano cheese (or similar, like parmesan – we used loads!)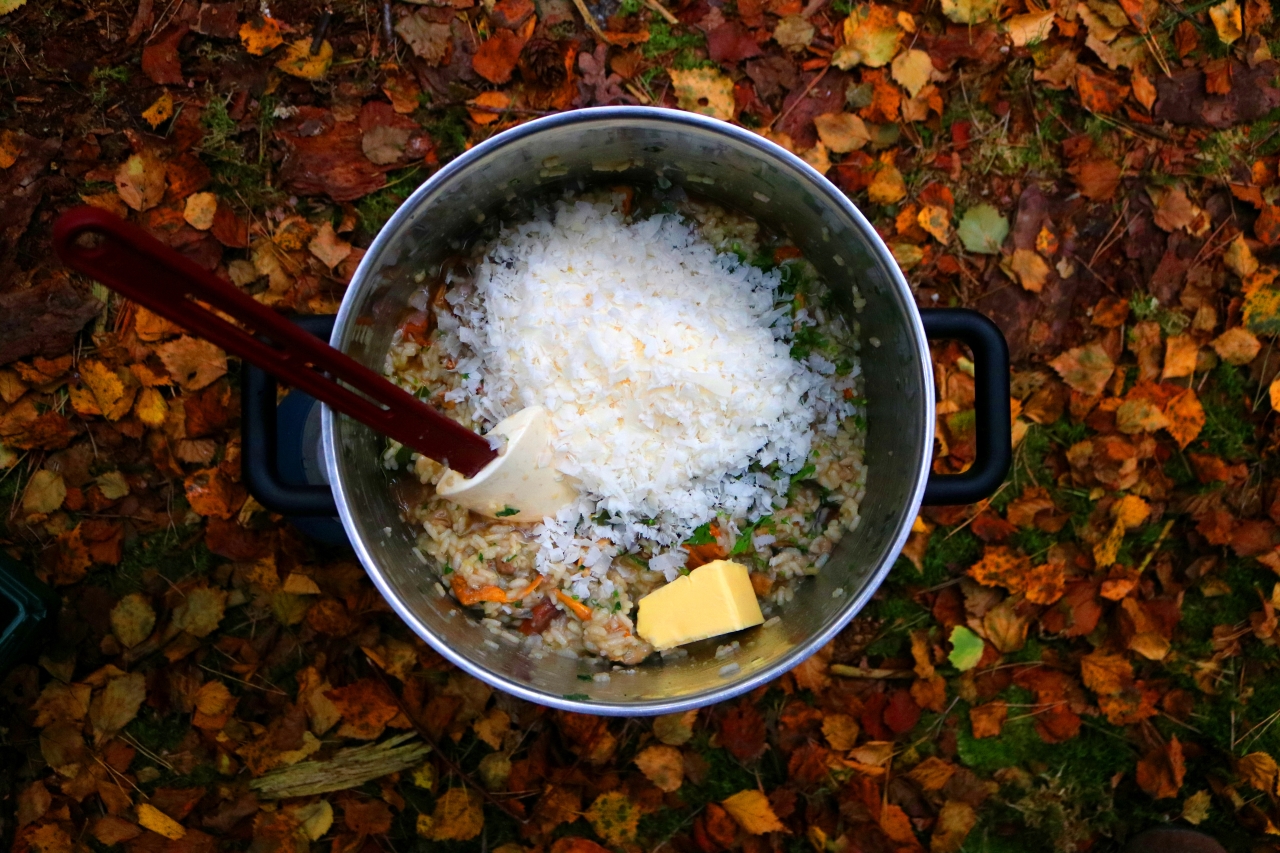 Method
Soak the porcini mushrooms in hot water for 10 minutes, then drain well. Heat the oil in a large, heavy based saucepan and add the onion and garlic. Fry over a gentle heat for 2-3 minutes, until softened. Add the chestnut mushrooms and fry for a further 2-3 minutes, until browned.

Stir in the rice and coat in the oil. Pour in the wine and simmer, stirring, until the liquid has been absorbed. Add a ladleful of the stock and simmer, stirring again, until the liquid has been absorbed. Continue adding the stock in this way, until all the liquid has been absorbed and the rice is plump and tender.

Roughly chop the soaked porcini mushrooms and stir into the risotto, along with the parsley, butter and salt and pepper. Serve with a big handful of freshly grated Grana Padano.

Enjoy!